2. Anti Fashion Boot Camp



Anti Fashion Boot Camp
Funded by People's Liberty

ANTI FASHION BOOT CAMP
Anti Fashion Boot Camp is a democratic education sanctuary dedicated to cultivating access to "fashion ecology"* and "cessability"* for high schoolers in Cincinnati. Making the craft of sewing, mending and upcyclng accessible to the community.

Our Views On Education:
AFBC believes that the radical expression of freedom and justice is facilitated by education. Fundamental pedagogical pillars of this space include; open source curriculum, skill based learning, learning from failure and the cultivation of reflective practice as a tool for empowerment. Education is intrinsically political. We politically position ourselves against the dominant power structures of racism, classism and sexism often found in traditional education environments.

Our Views On Fashion:
AFBC envisions that what is most needed now are "Fashion Ecologists" who understand the language and scope of this industry and it's problems, not fashion designers who continue to pollute the industry with new commodities. A "Fashion Ecologist" will be equipped with the reflective skills to begin to analyze the accelerated pace of the industry, as well as the tendency towards the regurgitation of ideas.

Our Views On Sustainability:
AFBC is committed to the ugrent need for fashion education to re-examine its relationship to the study of sustainability. We need to develop a new language to describe the crisis of overproduction and acceleration we are dealing with in the fashion industry today, a new language that at its root does not imply the "sustaining" of our current reality. AFBC proposes a practice of "cessabilty", to halt or stop the use of new raw material to produce new commodities. "Cessabiliy" asks us to reflect on clothing waste and develop strategies to redefine what "newness" can be.




Theory and Practice:
AFBC started out with a three month investigation into the theory we wanted to bring to life in this space. Taking on an intern from the local fashion program at DAAP, we reviewed texts regarding radical education, sustainability and circular design. We found that it is a difficult experience reconciling radical theory with practicality and this became the main goal of this project.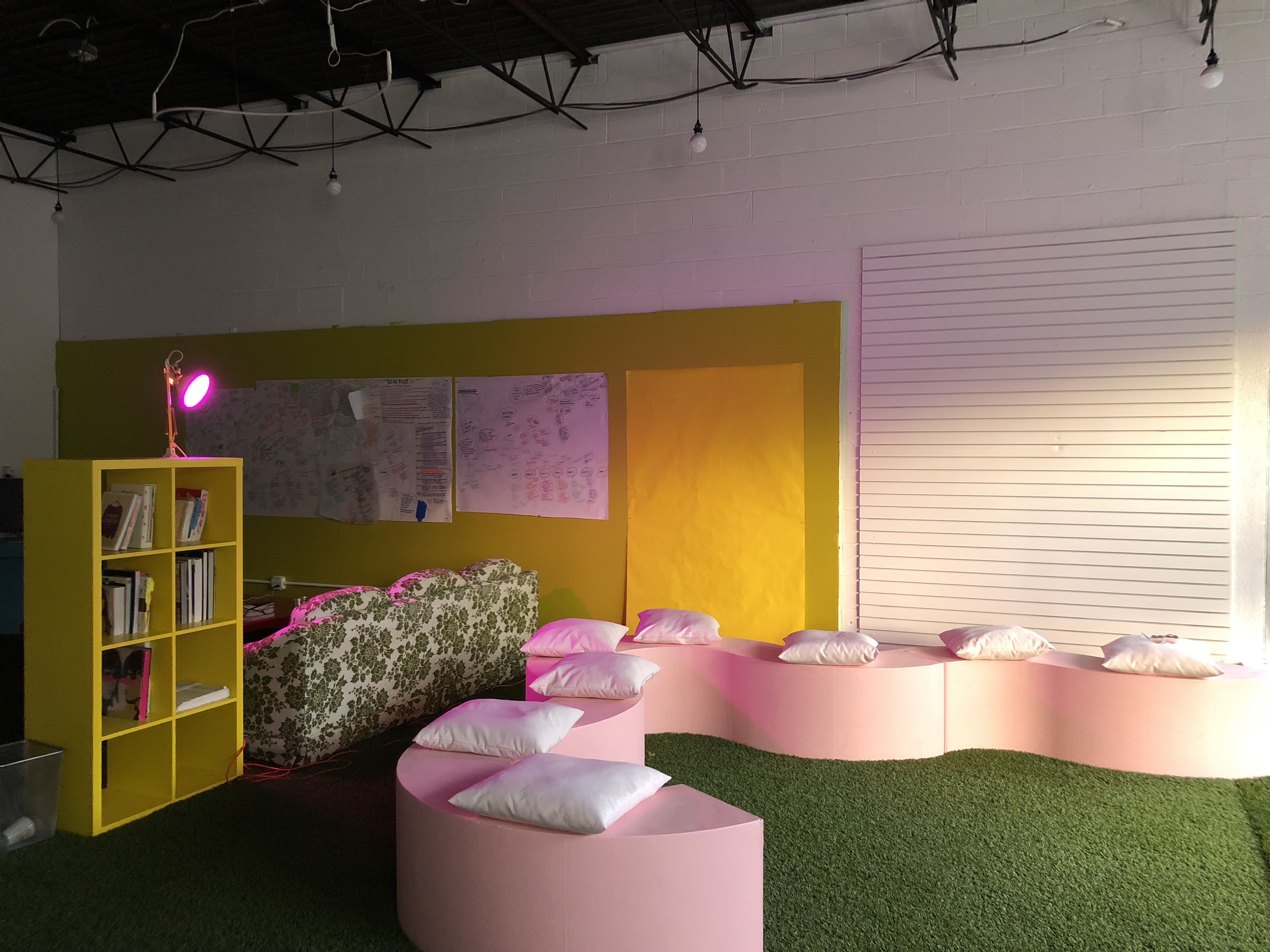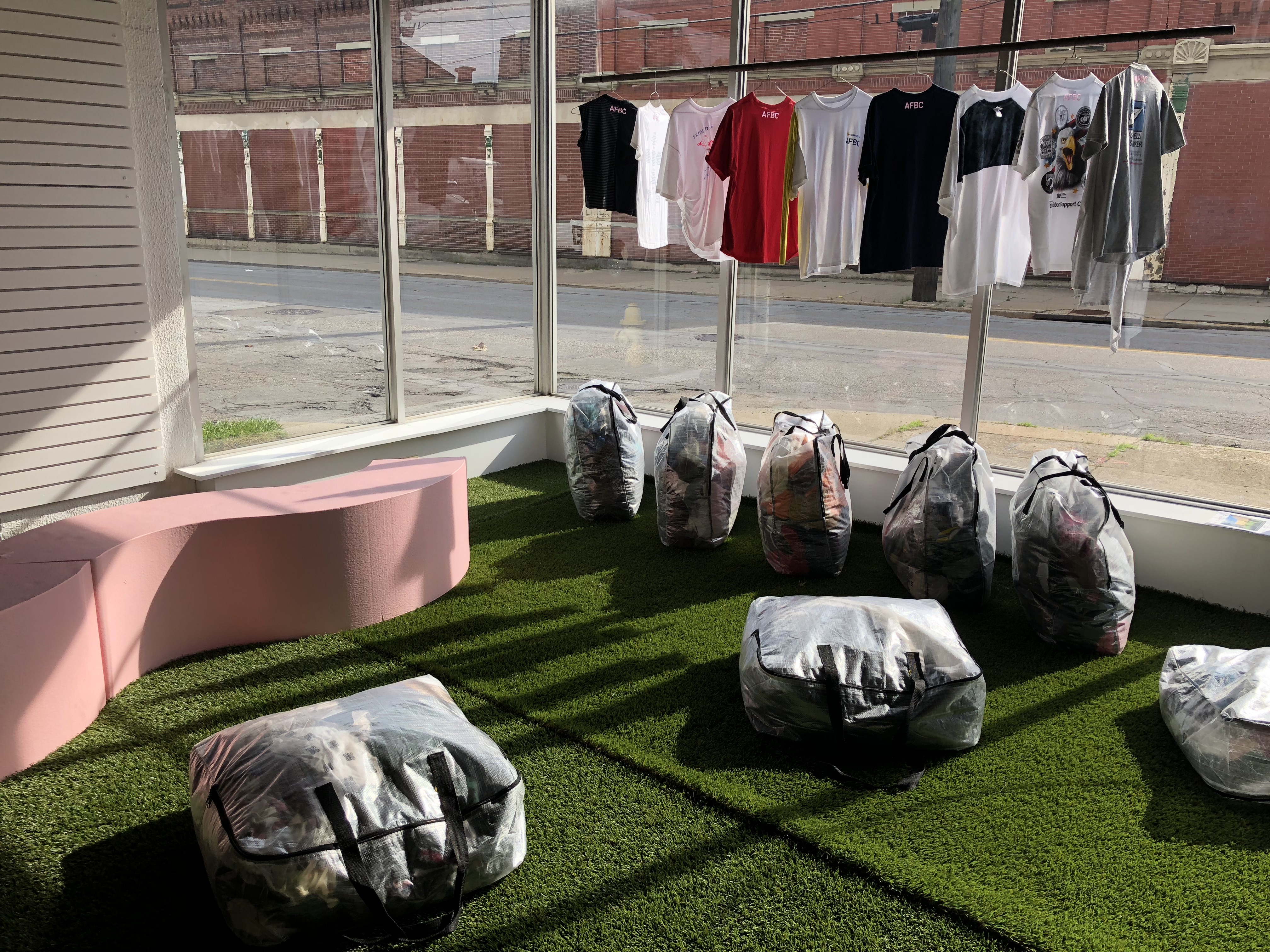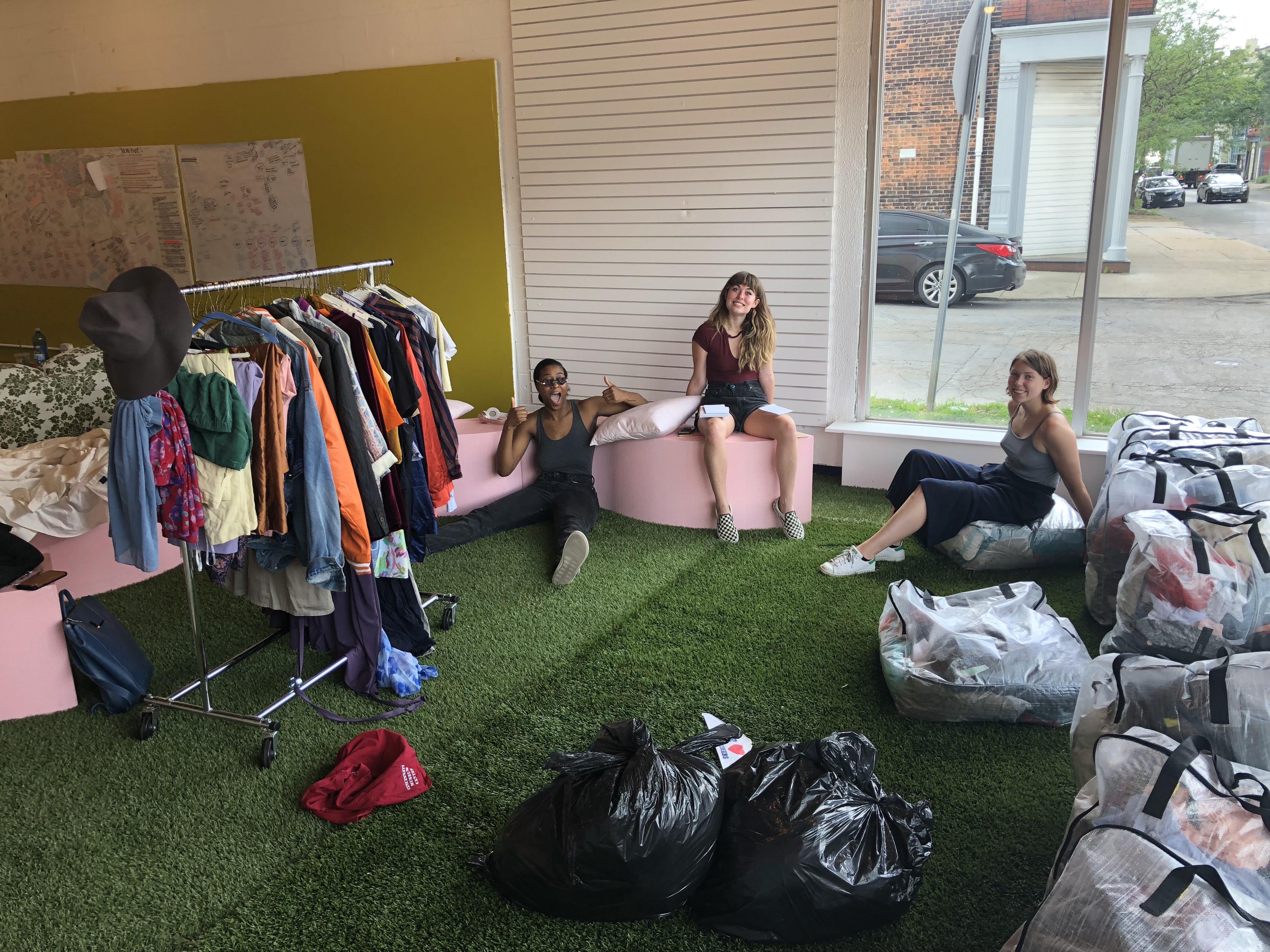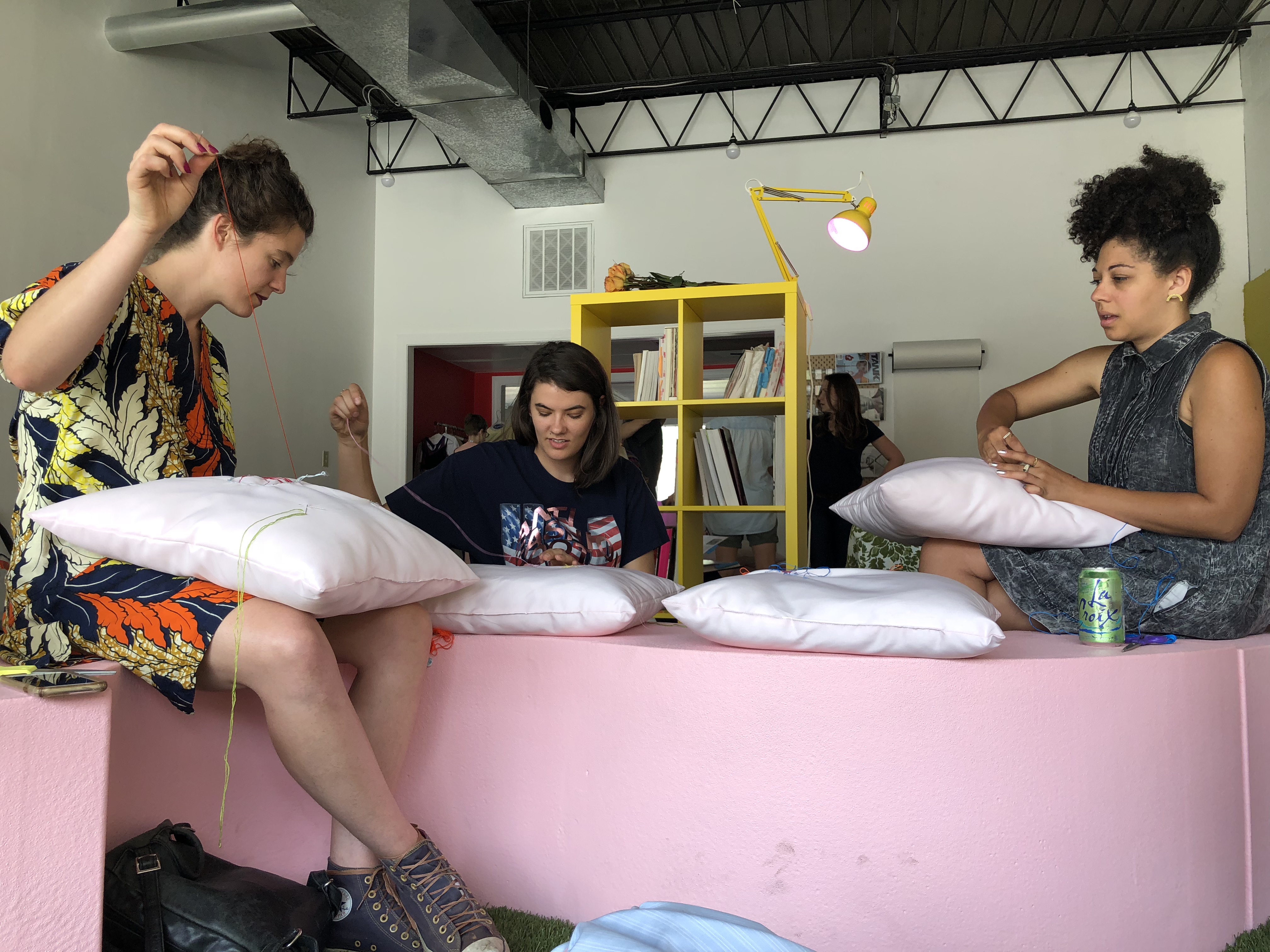 A New Educational Space:
The space itself located in the Cincinnati neighborhood of Camp Washington was designed with open access in mind. We wanted the space to be comfortable enough for the public to come in to learn about fashion in a relaxed and low stakes environment. Reflecting on the stuffy nature of classrooms as well as the overall intimidation most people face when thinking about the fashion industry, we wanted to turn these notions on their heads and create an energy that was welcoming and collaborative.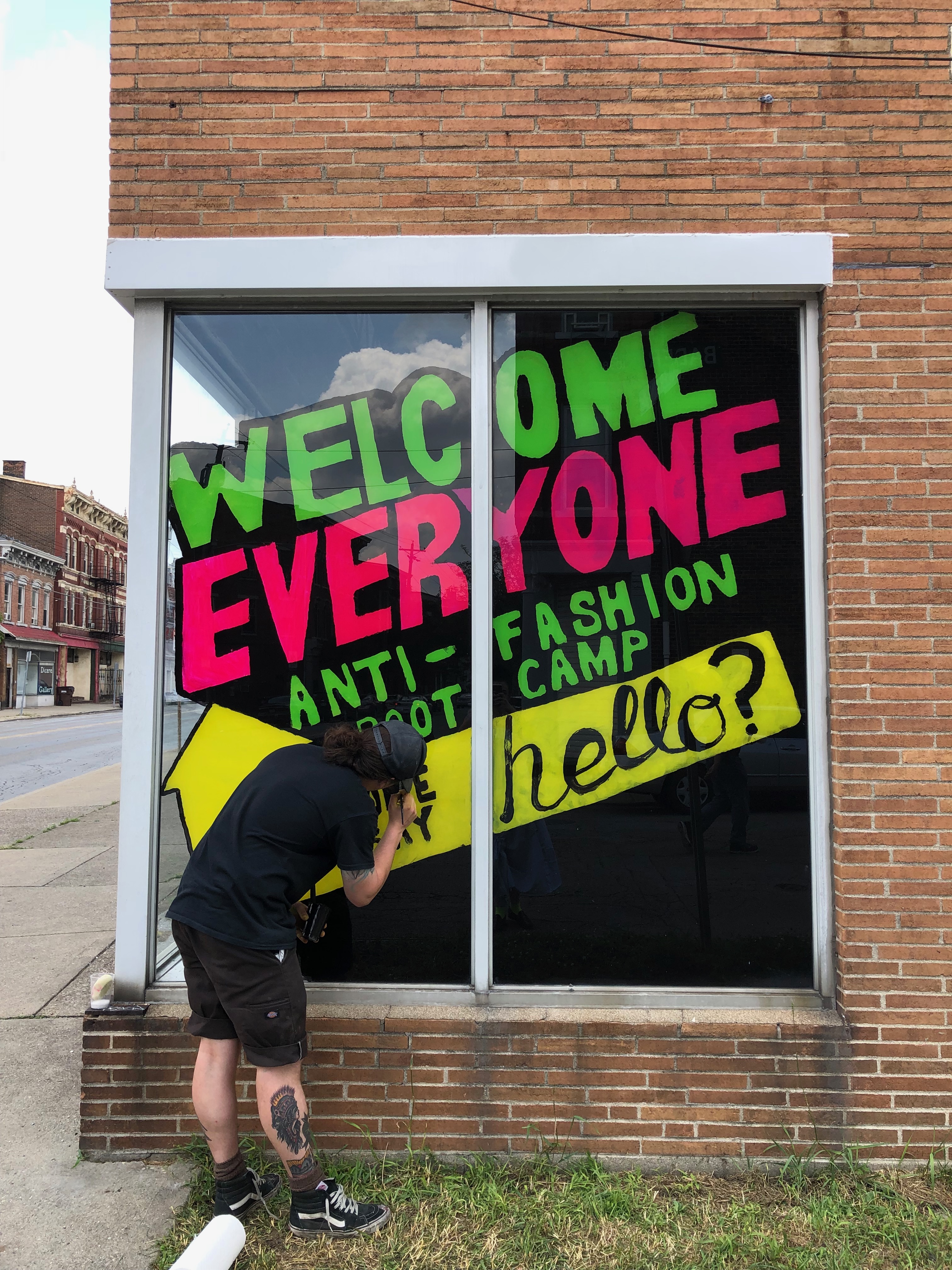 Dressing Up is Democratic:
For our opening party we wanted to design an event that was friendly to all ages as well as immersive for the public to experience the culture we wanted to cultivate in the space. Doubling as a clothing drive, we set up a photo set where people attending the opening could dress themselves up in our donated clothing and act as a model in our photoshoot. The exciting and playful nature of dress up made fashion an accesible concept to people who had very limited recognized experience with the world of fashion. Making that statement that anyone could be a model, a stylist or a photographer allowed many people to experience their own identity in a new way.

Weaving with Waste:
Each week AFBC hosted a local weaving artist Abby Schnure into the space to run weaving workshops with the community. Abby's practice focusing on using waste in a way that can reinstill value into a product as well as bringing a traditional craft to her community. Her values as an artist lined up with the culture of our space at AFBC and her weekly workshops springboarded her presence in the Cincinnati community.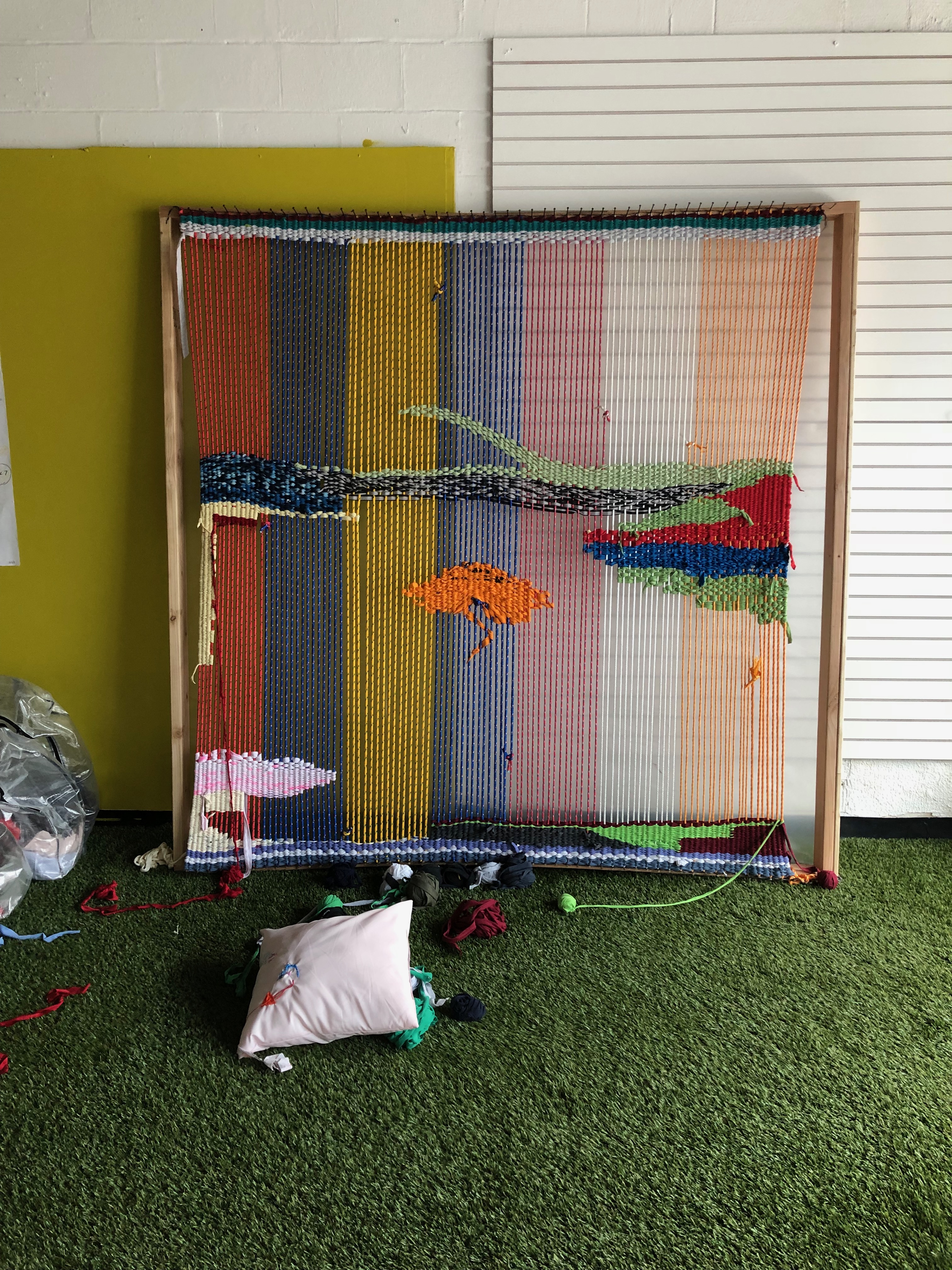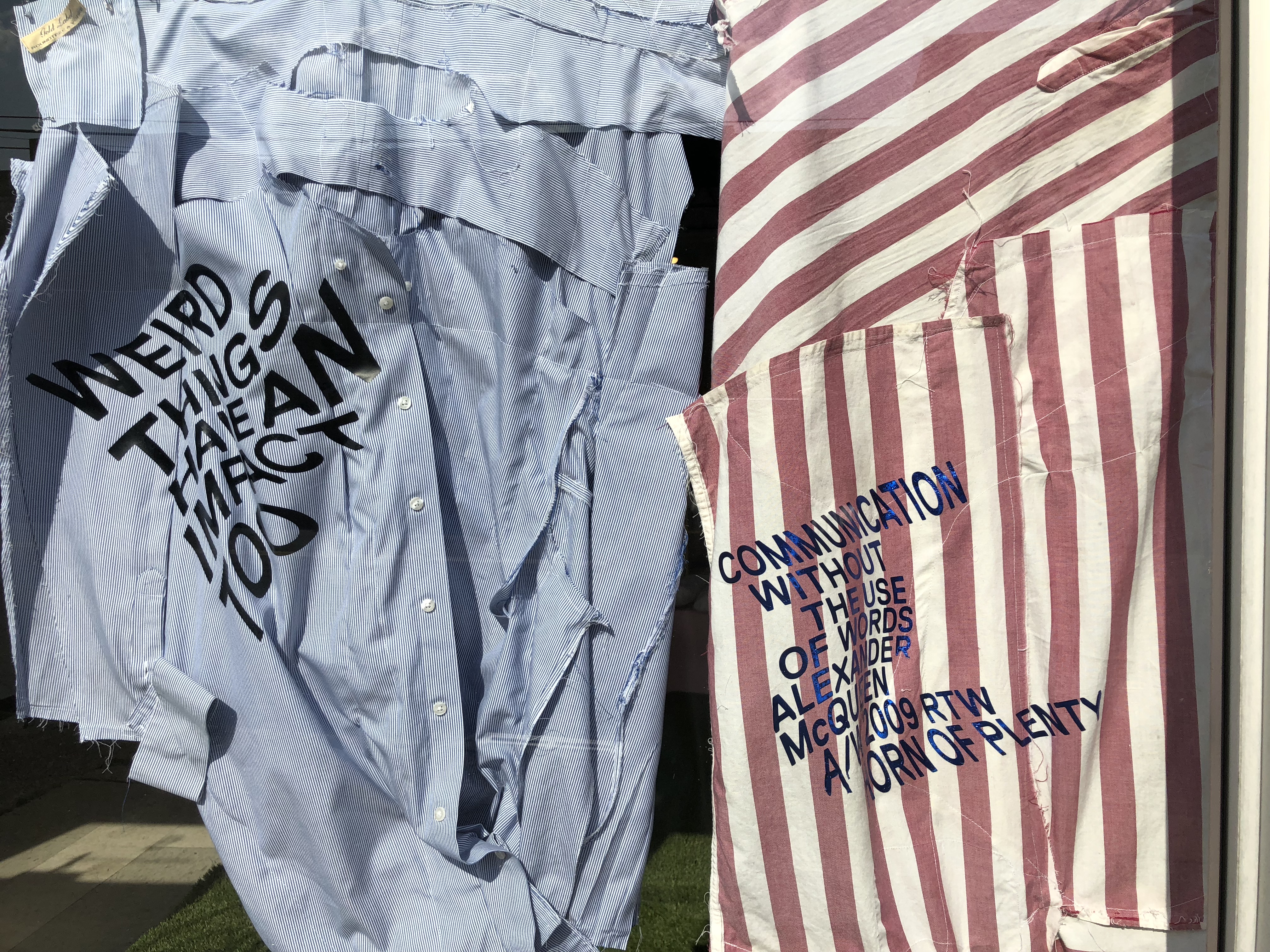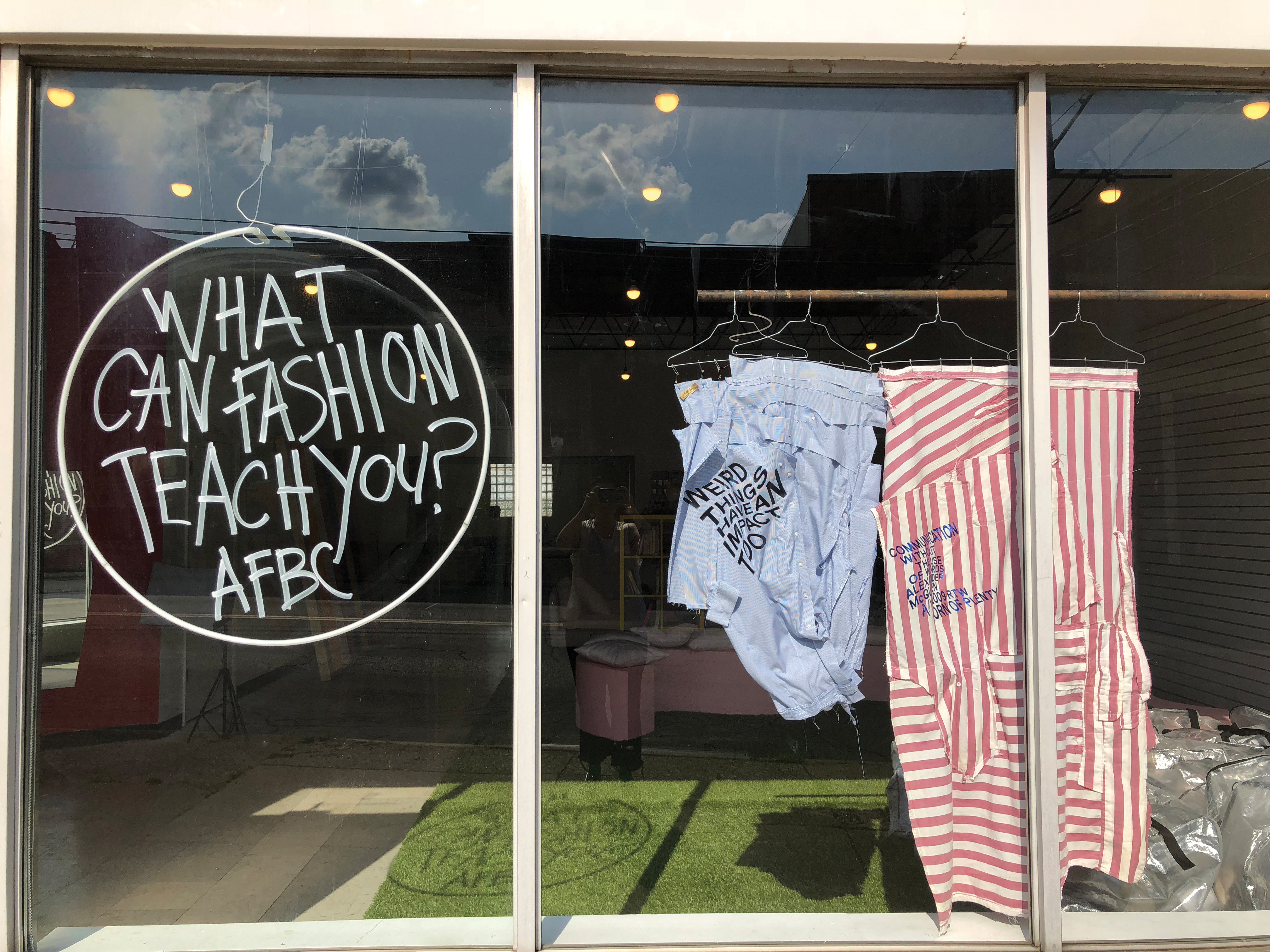 Deconstructing Lessons:
One of the first exercises we conducted with the students was a deconstruct reconstruct project. Taking a mens collared shirt we sat for an afternoon with a seam ripper deconstructing each element of the shirt. This reverse design process not only showed each compotent of building a mens dress shirt but also instilled a sense of appreciation for the complexities of clothing design. Once the components were deconstructed they were sewn together to create a flag. This was the first experience with sewing many of the students had, so creating an exercise that was low risk was important.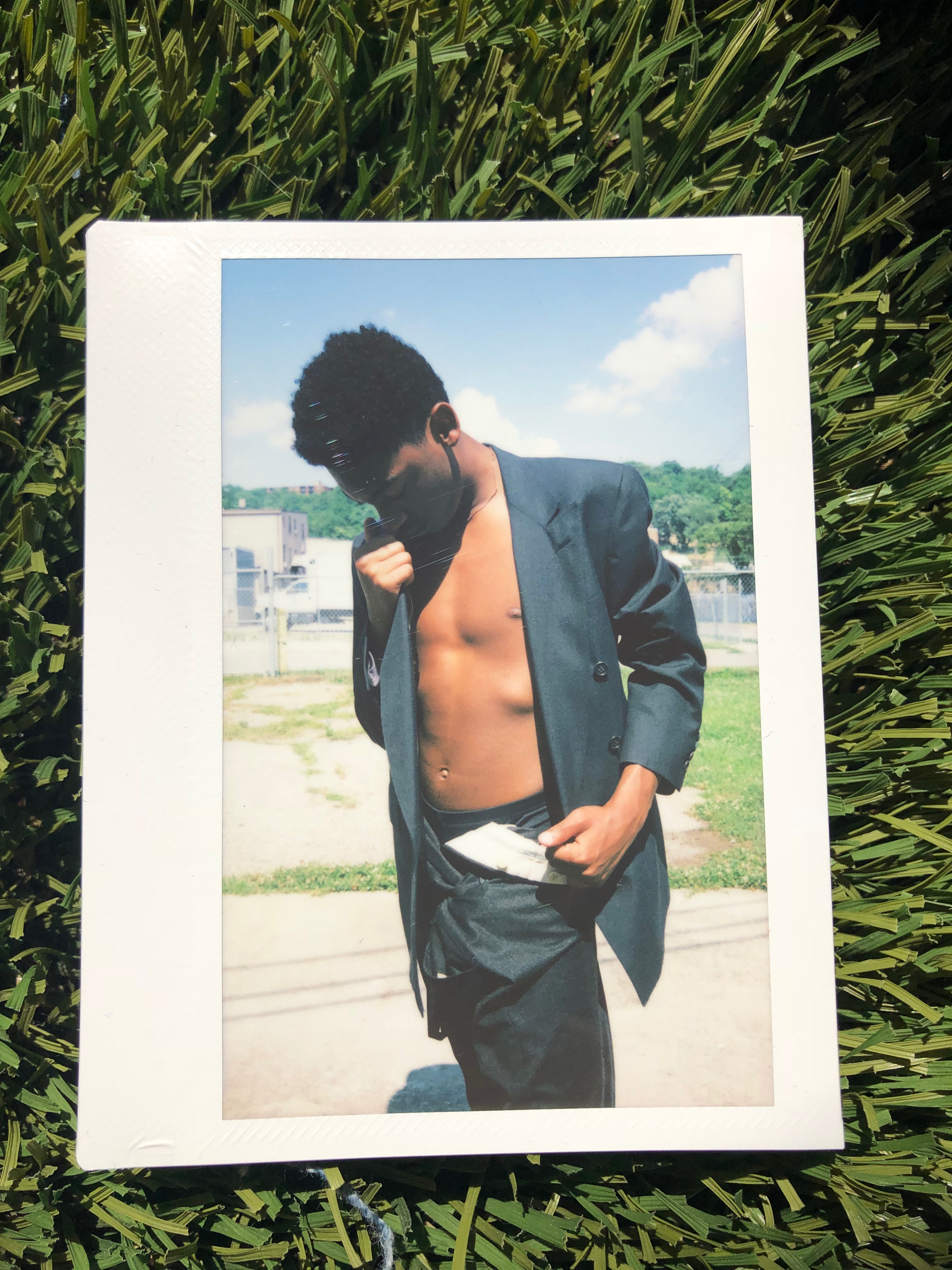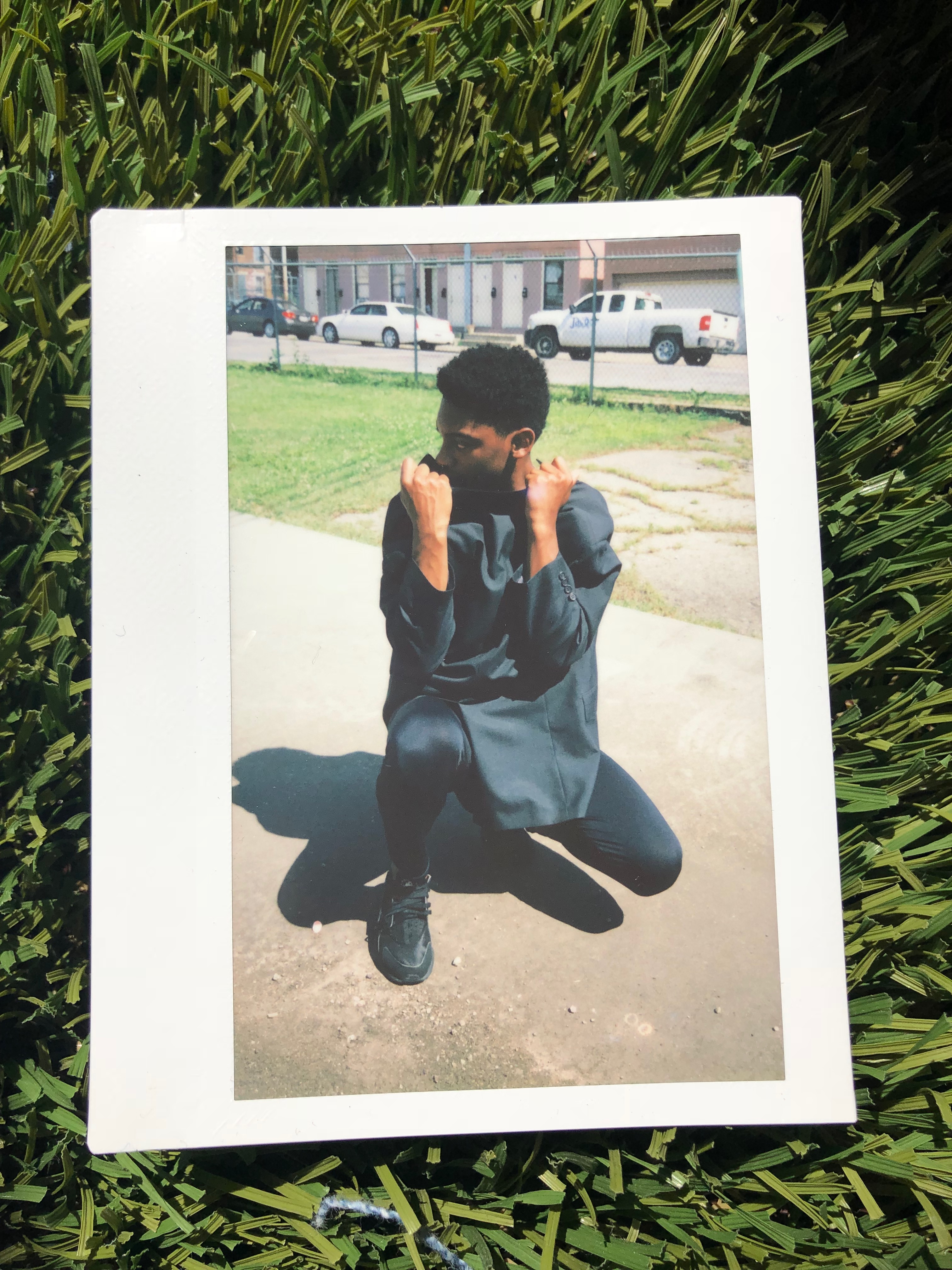 The Future of Professionalism:
A fun project we ran with the high schoolers in the camp was study into the future of professional dress. AFBC was donated over 20 mens suits during our clothing drive which gave us the materials needed to really address the concept of who defines what professionalism is. We spent an afternoon cutting up and collaging the suits into new shapes that represented inclusivity of professionalism in the future.

Teaching Reflections: Having the opportunity and funding to create, from the gorund up, my ideal educational space was transformative. The experience building AFBC solidified my interest in pivoting my career to younger students who have had a lack of access to arts education in their educational environments. I learned how important it is to ask for help when designing a project at this large of a scale. The everyday experience of running a community space can be grueling and it was important that I had a team of individuals who I could trust to be responsible in collaboratively running the space with me. Ultimately a huge lesson for me was understanding that people have to choose to come to spaces like AFBC they cannot be forced or coerced. Combining radical education with the pragmatic reality of dealing with teenagers was a difficult to navigate however helped me cultivate a sense of patience I did not have before this project.


---
AFBC Premises